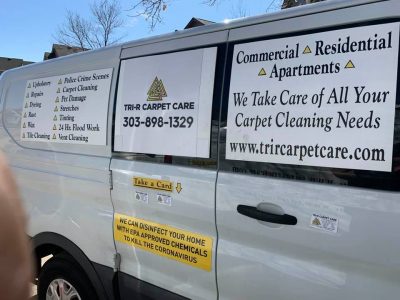 When it comes to maintaining the cleanliness and longevity of your carpets, Tri R Carpet Care, Inc. is the name you can trust.
Proudly serving the residents and businesses of Denver, Aurora, Lakewood, Highlands Ranch, Littleton, Golden, and the surrounding areas, we offer a comprehensive range of carpet cleaning and restoration services.
From carpet repair to water damage restoration, our dedicated team of professionals is committed to delivering top-notch results and exceeding your expectations.
Carpet Repair and Cleaning:
Does your carpet show wear and tear signs? Our skilled technicians specialize in carpet repair, ensuring that unsightly rips, tears, and wrinkles are expertly resolved. Moreover, our professional carpet cleaning services utilize advanced techniques to remove deep-seated dirt, stains, and allergens, leaving your carpets fresh, clean and revitalized.
Dryer Duct and Vent Cleaning:
Maintaining clean dryer ducts and vents is crucial for both safety and efficiency. Our experienced team offers thorough dryer duct and vent cleaning services, reducing the risk of fire hazards and improving the performance of your dryer.
Commercial Carpet Cleaning:
We understand the importance of a clean and inviting business environment. Our commercial carpet cleaning services are tailored to suit the specific needs of businesses, ensuring that your carpets make a positive impression on clients and employees alike.
Upholstery Cleaning:
Extend the life of your upholstered furniture with our professional upholstery cleaning services. Our experts utilize safe and effective methods to remove stains, odors, and allergens, rejuvenating your furniture and creating a healthier living or workspace.
Water Damage Repair and Restoration:
Swift action is crucial when water damage strikes. Our dedicated team is equipped to handle water damage repair, restoration, and extraction, minimizing the potential for mold growth and restoring your property to its pre-damage condition.
Tri R Carpet Care, Inc. is your one-stop solution for all your carpet care needs in Denver and the surrounding areas.
From carpet repair and cleaning to upholstery cleaning and water damage restoration, our team is dedicated to delivering exceptional results with personalized service. Contact us today to experience the Tri R Carpet Care difference and enjoy a cleaner, healthier, and more beautiful environment.