Need Carpet Cleaning Service?
Keeping your home clean is essential in Denver, Aurora, Golden, Highlands Ranch, Littleton, Lakewood, CO, and the surrounding areas. When you want a deep clean, having professional carpet cleaning, carpet shampooing, as well as upholstery cleaning from the experts at Tri-R Carpet Care will give you that new home feeling.
Even when you are careful with your shoes and vacuum your carpets regularly, that doesn't really clean your carpets like carpet shampooing will do. We wash our hair with soap and water and do the same with our clothes, so why not do the same with your carpets?
Contact us today to schedule your carpet cleaning.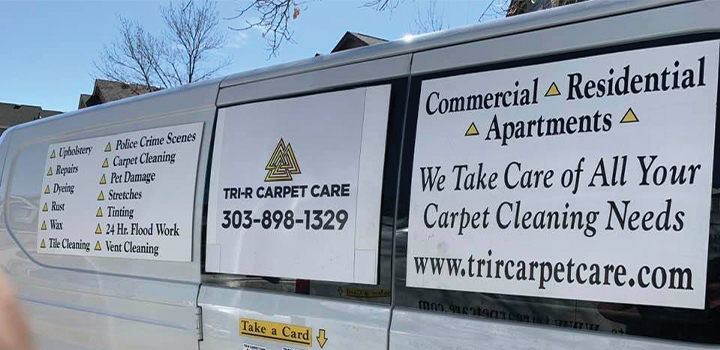 Carpet Cleaning and Repair
Your carpets get used a LOT throughout the day by everyone in your family. This traffic can grind dirt into the carpet fibers and tamp down the threads to make it look like a family highway in your home. Professional carpet cleaning removes this dirt and brings the carpeting back to how it looked when it was new.
We can also help remove stains in your carpeting that you may have thought were impossible to remove. We have a number of tools to use on stains to get them out and bring your carpeting back. Carpet shampooing also helps to eliminate the bacteria and other nasties that settle into the fibers of your carpet and contribute to lower indoor air quality for your home. You may also have a spot that is a candidate for carpet repair, and our trained technicians can explain the different repair options available.
Upholstery Cleaning
Along with cleaning your carpets, cleaning your upholstery is another task that helps to clean the fibers of your furniture to help maintain the appearance of your furniture. You can extend the life of your furniture by years with regular cleanings. You will also help improve your home's health with upholstery cleaning as bacteria and other nasties are removed from the fabric. These can affect your breathing and present other symptoms until they are cleaned.
You want your home in Denver, Aurora, Golden, Highlands Ranch, Littleton, Lakewood, CO, and the surrounding areas to be a clean sanctuary where you are able to rest and recover. Carpet cleaning and upholstery cleaning will enhance this aspect of your home and extend the life of these investments in your home. Contact our team at Tri-R Carpet Care today to learn more and schedule your cleaning.